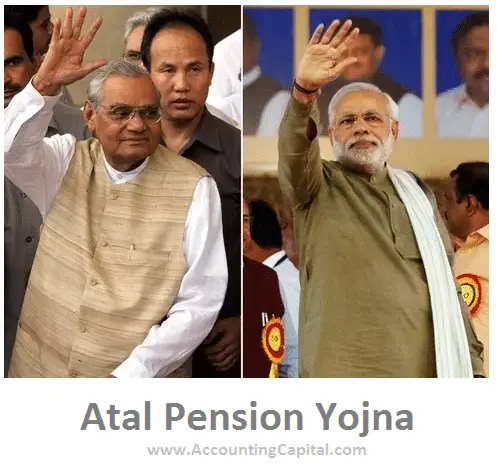 Atal Pension Yojna – Securing the Unorganized Sector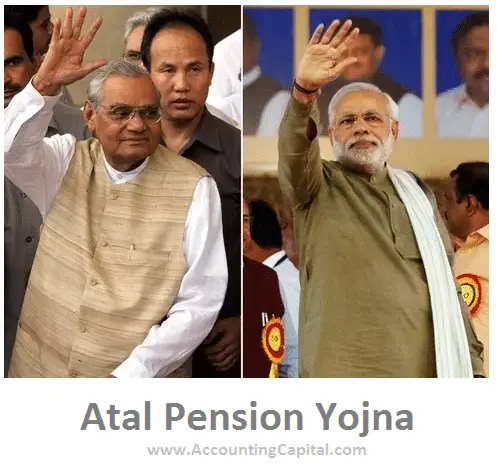 On 9th of May 2015, Prime Minister Narendra Modi formally launched the Atal Pension Yojna (APY) which is a government supported pension program in India and is meant for workforce in the unorganized section. The scheme is managed by PFRDA (Pension Fund Regulatory and Development Authority) with the help of National Payment Scheme's design.
Under this scheme, for every contribution made towards the pension fund, 50% of the total contribution or Rs 1000/- whichever amount is lower, will be co-funded for up to 5 years by the central government.
Government's co-contribution is only available for those who are not covered by any statutory social security schemes and are not Income Tax payers. Pension starts once the person becomes 60 years old hence the requirement is for a person to pay for at least 20 years under the scheme.
Eligibility
APY is available to all citizens of India between 18 – 40 years of age

KYC compliant Bank account is a mandate
How to Enroll for Atal Pension Yojna
Walk-in to your nearest bank (All PSUs would offer this scheme)

You may either download the application form beforehand from a bank's website or ask for one at the branch

Fill the form appropriately, ensure to mention a working mobile number & submit the form at the branch

Lastly you will be asked to submit a photocopy of your aadhar card along with form
All existing Swavalamban scheme subscribers, if eligible, may automatically be migrated to Atal Pension Yojna with an option to opt out.
or
Alternatively, you can download the form directly from govt. website.
Payout and Contribution
Under Atal Pension Yojna (APY), there is a guaranteed minimum monthly pension for subscribers, it varies between Rs 1000 and Rs 5000 per month depending upon the contribution.
Below is a chart showing different contributions at different life stages, such as if you're 25 years old and you wish to earn a pension of Rs 5000 at the age of 60 your monthly contribution will be Rs 376 per month.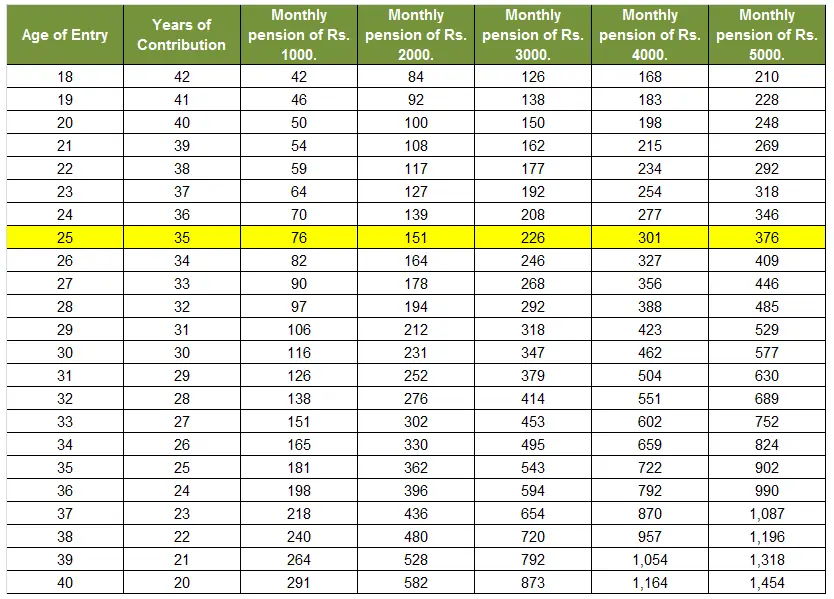 The contributions are debited automatically from the subscriber's bank account. Under APY, the monthly pension is available to the subscriber, and after their death to the spouse. In case the spouse also dies the pension corpus as accumulated at age 60 (of the subscriber) would be provided to the nominee.
Defaults and Discontinuation of Payments
Banks are authorized to collect a penalty amount for delayed payments, such amount will vary from Re 1 per month to Rs 10 per month depending on the contribution amount.
Re. 1 per month for contributions up to Rs. 100 per month

Re. 2 per month for contributions up to Rs. 101 – 500 per month

Re 5 per month for contribution between Rs 501 – 1000 per month

Rs 10 per month for contributions beyond Rs 1001 per month
If you discontinue making payments this is what happens to your account:
| | |
| --- | --- |
|  After 6 Months |  Account is Frozen |
|  After 12 Months |  Account is Deactivated |
|  After 24 Months |  Account is Closed |
All amendments & further details can be found on the official website for this scheme www.jansuraksha.gov.in
---
---