Meaning of Purchase Order
A purchase order (PO) is an official document generated by a buyer of goods or services as an offer for the seller. It becomes a legal document of the contract once the seller accepts the purchase order.
It describes the types of products/services, quantities, and prices that a buyer agrees to pay for the goods.
When a business wants to order goods it goes through a procurement process where it has to finalize a particular seller out of all available options and consequently has to begin a formal procedure to purchase the goods, generating a PO is among the first few steps of procurement of goods or services.
There are 4 different types of purchase orders such as Standard PO, Planned PO, Blanket PO and Contract PO.
Nowadays companies manage their entire procurement process with ERP systems e.g. SAP Ariba, Oracle iProcurement, IBM Emptoris Procurement etc.
It contains the following:
Date of order

PO number

Name and address of the purchaser

Name and address of the supplier

Mode of transport

Details of purchase

Shipping terms

Payment terms

Shipping date

Quantity ordered

Amount

Details of tax (if any)

Signature of the authorized personnel from Seller's side
Purchase Order Example Template
Below is a modified snapshot from the linked template showing UNREAL Corp. buying 200kg Oranges at the currency value of 100/kg, the total order value including taxes is 23,600.
Though a PO can look like an invoice they are different and have their own specific purpose.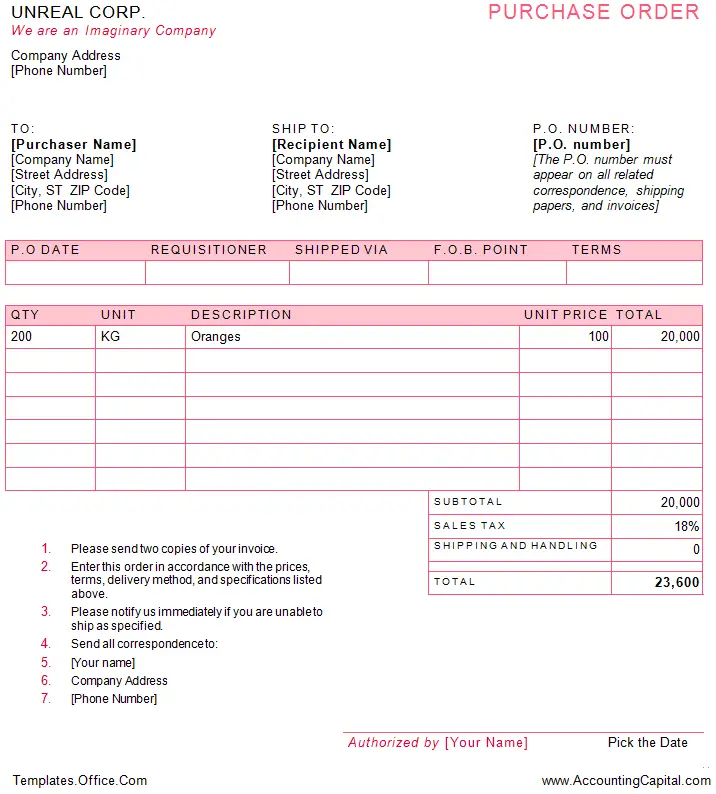 Types of Purchase Orders
Standard PO – Standard purchase orders (POs) are created when the details of the goods or services required are known. It is used for one-time procurements with complete specifications such as price, quantity, payment terms, and timelines.
Example – A business raises a standard purchase order when it decides to buy 100 new laptops and 50 new workstations with pre-decided payment terms and timelines.
Planned PO – Planned purchase orders state that items or services will be purchased from a single source over the long term.
A PPO (planned purchase order) does not contain delivery information, however, it should include a tentative delivery schedule and all details about the goods or services needed to purchase, including a charge account, quantities, and estimated costs.
Example – A car repair shop may need 100 car screws from a supplier every month to fix the cars of their customers. For this, the repair shop can raise a planned purchase order for 1 year confirming the purchase of 100 screws per month.
Blanket PO – With a blanket purchase order an organization and a supplier enter into a long-term contract to supply products or services at a fixed price at a set frequency. To take advantage of predetermined pricing, suppliers often allow multiple delivery dates over a period of time.
Example – If a company buys a large number of pens and printing paper from the same company throughout the year they usually create a blanket purchase order with a consensus on the unit price for each item and a limit on how many units or how much currency amount can be spent on each line item in a year.
Contract PO – In a contract purchase order, the vendor's details are outlined, along with possible payment and delivery terms. No specific products are listed for purchase.
As the basis for an ongoing commercial relationship between a purchaser and a vendor, a contract purchase order establishes terms of supply. When raising a standard purchase order, the purchaser can refer to the contract purchase order.
Example – It is created in a business by the procurement manager and a trusted vendor to ensure a smooth ordering process in future. The main reason to create is to avoid any delays in the approval process, especially in the need or urgent deliveries.
Word and PDF Format Sample Download
Open and Download – WORD Format
Open and Download – PDF Format
Revision & Highlights Short Video
Highly Recommended!!
Do not miss our 1-minute revision video. This will help you quickly revise and memorize the topic forever. Try it :)
Short Quiz for Self-Evaluation
>Read Three-Way Matching
---
---