A petty cash book is just as its name suggests a book which is used for the purpose of recording small amounts of expenses in a business. Usually, the petty cashier maintains a petty cash book. It is like a petty cash account. A simple petty cash book looks like a cash book with two main columns (left for receipts & right for payments).
There are mainly two types of petty cash books;
Simple petty cash book
Analytical petty cash book
This article emphasizes on the first time that is "simple".
Related Topic – Petty Cash book PDF Format
Meaning and Definition
A simple type of petty cash book is one that is maintained simply with the help of 2 primary columns, one for receipts (left) and one for payments (right).
This means any cash that the petty cashier receives is recorded on the left-hand side (debit side) of the book whereas any cash that is paid is recorded on the right-hand side (credit side). The date, along with the particulars of the item is recorded in chronological order.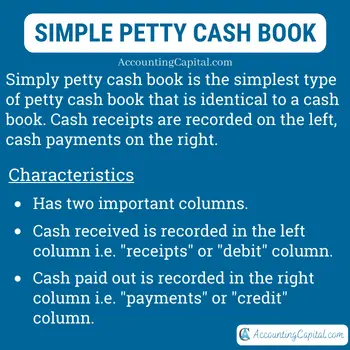 Related Topic – Normal Balance and Type of Account of Petty Cash Book
Simple Petty Cash Book Format

Amount Received – The money received from the chief cashier for petty cash expenses
L.F. (Ledger Folio) – The page number of the relevant ledger account
Cash Book Folio – The page number in the cash book of the relevant ledger account
Date – Date of transaction
Particulars – Short description of the transaction
Voucher No. – Voucher number related to the transaction
Amount Paid – The sum of money paid for a particular transaction
Example
From the following information please show a simple petty cash book for the 1st week of Jan YYYY.
Details of petty cash transactions
Date
Particulars
Amt
YYYY
Jan 1
Received 10,000 for petty cash
Jan 2
Purchased stationery
200
Jan 4
Paid for bank WIRE charges
500
Jan 5
Bought postage stamps
100
Jan 6
Paid for office expenses
1000
Jan 7
Paid for festival celebration
200
Solution
(Solved Example)

Amount Received
Cash Book Folio
Date
Particulars
Voucher
Amt
10,000
YYYY

Jan 1

Jan 2

Jan 4

Jan 5

Jan 6

Jan 7

Jan 7

 

To Cash A/c

By Stationery A/c

By Bank Charges A/c

By Postage A/c

By Office Expenses A/c

By Miscellaneous Exp. A/c

By Balance c/d

 

 

 

 

 

200

500

100

1000

200

8000

 

10,000
10,000
> Read The balance of a petty cash book is an asset or income?
---
---